Grey by E.L. James
My rating: 5 of 5 stars
I ABSOLUTELY love GREY!!!!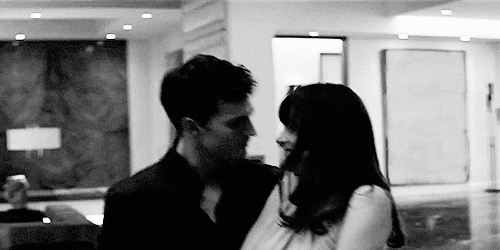 Nothin to be ashamed of!!! *Fuck off bitches*
That does'nt mean that i have crap load of taste in BOOKS!! *who cares*
Just wanted a FLITTERED christian !!
You know why?
B/c just like all the accusations that James knows not-one-thing about the BDSM community, guess what?
NEITHER DO I.
There's a reason these books appeal to the WASP community at large: we are the opposite of hardcore.
We enjoy a FICTIONALIZED account of BDSM that ultimately concludes with a hot bazillionaire not being nearly as hard a case as he thought he was. #sorrynotsorry
Fifty Shades of Grey was my introduction to romance. This was the first book I read in late 2012 in this particular genre. It is what convinced me to buy a kindle. It was what opened the door to a whole new world of stories. In a way this book changed my life. It brought a long list of friends that I hold near and dear to my heart and it has given me an outlet that I did not have before. Say what you will about this series, but there is no denying the impact it has had in the book world.
Some hate this series. Okay. But I can't think of another book that has changed things quite like this. We have authors we love because this book gave them the courage to try. Nearly three years ago this series set me on a new path. This gave me a push to expand my boundaries and now I am getting a chance at doing something with my life that I love to do.
When I finished Fifty Shades Freed, the POV chapters at the end made me want to devour the books all over again. And I did. I read them ten times in a row (remember, I hadn't yet purchased a Kindle). So getting Grey… yeah that was like a dream come true.
"Her blazing blue eyes see everything. See me. My soul. She sees the darkness and the monster beneath."
Grey covers the span of time from just before Ana walks into his office until he get gets her back at the start of FSD. The dialogue and email exchanges are the same – of course they are, they had to be. But what was different was getting in Christian's head. It was watching him struggle with his desire for her, his need of punishment and ultimately his undoing.
"I want so much from her: her trust, her obedience, her submission. I want her to be mine, but right now… I'm hers."
I loved this book. I wanted the rest of the trilogy from his POV immediately. I had to open up Darker just to get the resolution I needed to feel OK. And well that, that turned into me re-reading all of that book. So yeah, it might be a few years since this story graced my kindle, but reading Grey reminded me of all I loved about it to begin with.

"No… Ana. Don't go.
"Good-bye, Christian."
"Ana… good-bye."
The doors close, and she's gone.
I sink slowly to the floor and put my head in my hands. The void is now cavernous and aching, overwhelming me.

Grey, what the hell have you done?! "
So if you were not a fan of FSOG, this is not your book. Reading it would be a waste and really only will accomplish giving you a platform to pronounce your hate of the story. Why waste the money, time and effort for just a bit of attention? This book is one written or fans of the series. And this fan would gladly read the rest of this series through Christian Grey's eyes if Ms. James was so inclined to write it …